Meet MORTORP!
zaterdag 02 februari 2013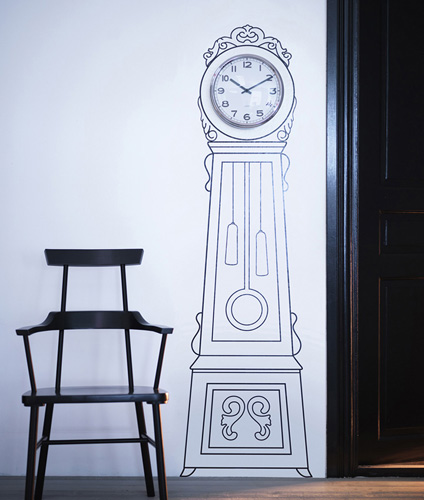 As part of my graduation project for Academy Artemis, I developed a product concept that consisted of wall panels with black and white drawings of antique furniture, which were combined with basic IKEA products. Thus arose murals which were functional pieces of furniture at the same time. Space saving and decorative.
In a nutshell, the underlying philosophy was that we need to deal with our space and resources in a more conscious way. We are revaluing crafts and are looking for new ways of expression at the same time, whilst bearing in mind that we need to do more with less.
After my graduation, I took this concept further, executed the designs and sent them to IKEA, what resulted in an assignment to design a new model. The outcome is MORTORP, a decoration sticker of an antique (Swedish) grandfather clock, which you combine with wall clock PUGG, or any other wall clock no larger than 38 cm in diameter.